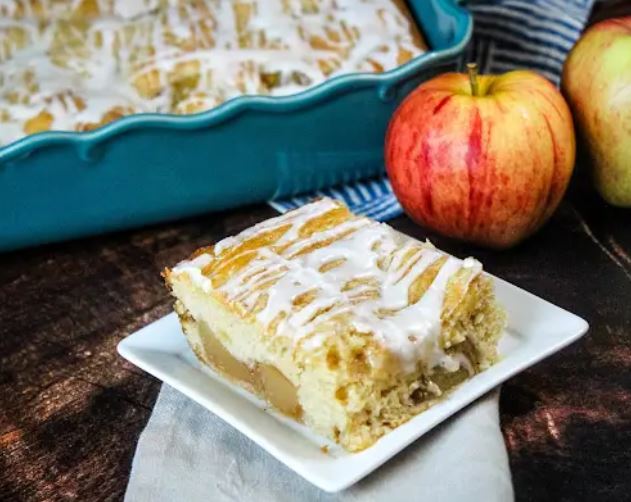 Who doesn't like a nice piece of coffee cake for breakfast, or anytime, for that matter? Especially for overnight company… it's just a real treat. So, instead of running to the grocery store and buying donuts or coffee cake, just make this one up in no time. Your guests and family will love you even more for it. Mine did!
Serves:10-12 
Prep:10 Min
 Cook:35 Min
Method:Bake
In the Test Kitchen, we love coffee cake and this is a super easy recipe. The cake starts with a cake mix but adding a little bit of cinnamon pumps up the flavor. Apple pie filling is dolloped onto the batter. As the dense cake bakes, it surrounds the apple filling. So, when cut the apples are a surprise. Drizzled on top is a glaze that adds just the right amount of sweetness
Ingredients :
CAKE
1 pkgwhite cake mix (15.25 oz)
1 tspground cinnamon
1 csour cream
3eggs
1/4 cwater
*1 can(s)apple pie filling (21 oz)
GLAZE
1 cconfectioners' sugar
1 – 1 1/2 Tbspmilk
How to Make Apple Pie Filling Coffee Cake
Heat oven to 350º F.
Pour into a greased and floured (or spray with Pam) 13×9-inch pan. Top with spoonfuls of pie filling. The cake will bake up over the filling.
For the glaze, mix powdered sugar and milk. If the glaze is too thick to drizzle, add milk, by teaspoonfuls, until desired consistency.