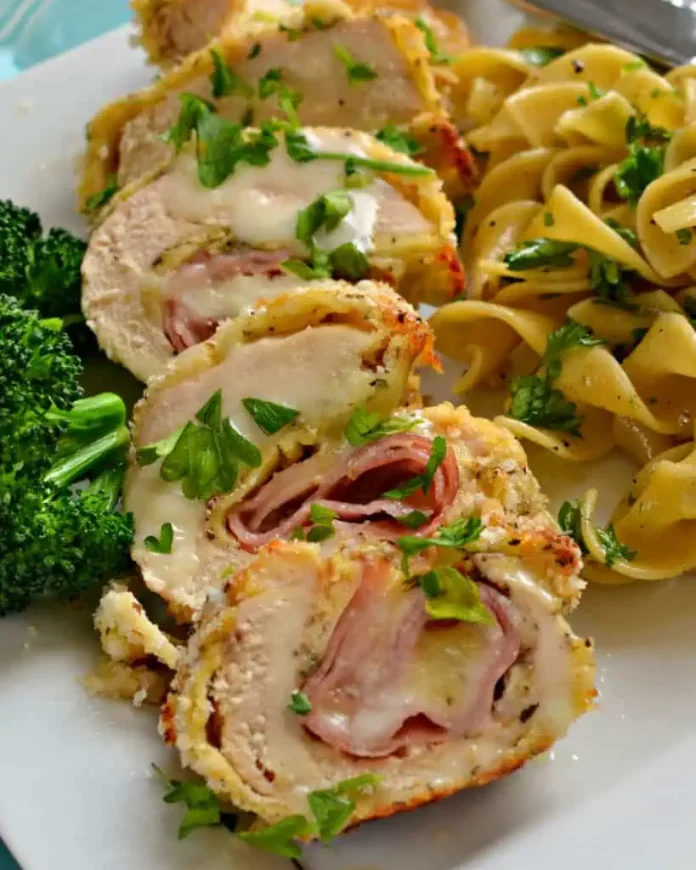 Elevate your dining experience with our culinary masterpiece, the Baked Gourmet Chicken Cordon Bleu Extravaganza. This exceptional dish boasts Panko-crusted chicken breasts, generously filled with the harmonious duo of Swiss cheese and ham, all crowned with a luscious Parmesan-Dijon cream sauce. Balancing simplicity and sophistication, this recipe is not only perfect for a quick weeknight dinner but also makes a stunning centerpiece for your most elegant gatherings.
Ingredients:
2 large boneless, skinless chicken breasts, halved lengthwise
Kosher salt and freshly ground black pepper
2 eggs
1 tablespoon milk
1/2 cup all-purpose flour
1 1/4 cups Panko bread crumbs
1 teaspoon dried basil
1 teaspoon dried oregano
4 slices deli-sized baby Swiss cheese
4 slices deli-style ham
Parmesan-Dijon Cream Sauce:
2 tablespoons butter
2 tablespoons flour
1 1/2 cups milk
1 1/2 tablespoons Dijon mustard
1/2 cup shredded Parmesan cheese
1 tablespoon fresh chopped Italian parsley (optional)
Instructions:
Preheat the oven to 375 degrees. If needed, use a meat mallet to pound chicken breasts to a 1/2-inch thickness. Season with kosher salt and black pepper.
Whisk eggs and 1 tablespoon of milk in a small bowl. Place flour on a shallow plate. Combine Panko bread crumbs, basil, and oregano on a separate shallow plate.
Lay one piece of Swiss cheese on each chicken piece, topping it with a slice of ham. Roll up the chicken breasts, securing them with toothpicks.
Dip each rolled chicken stack in the egg mixture, then in flour, back in the egg mixture, and finally in the Panko breadcrumbs.
Place the prepared chicken on a baking sheet lined with parchment paper. Lightly spritz each piece with cooking spray. Bake for 25-35 minutes or until the internal temperature reaches 165 degrees. Cover loosely with aluminum foil.
In the meantime, melt butter over medium heat. Whisk in flour and cook for 2-3 minutes, whisking constantly. Slowly whisk in milk and cook until slightly thickened (about 2 minutes). Reduce heat to low and whisk in Dijon mustard and Parmesan cheese. Cook until the cheese is melted, whisking constantly.
Carefully remove toothpicks, slice the chicken into rounds, drizzle with the cheese sauce, and sprinkle with parsley if desired.
Conclusion:
Savor the symphony of flavors in each bite of this Baked Gourmet Chicken Cordon Bleu Extravaganza. Whether it's a casual weeknight or a special celebration, let this dish be the star of your dining experience, bringing together simplicity, elegance, and culinary brilliance.
source of the picture : small town woman