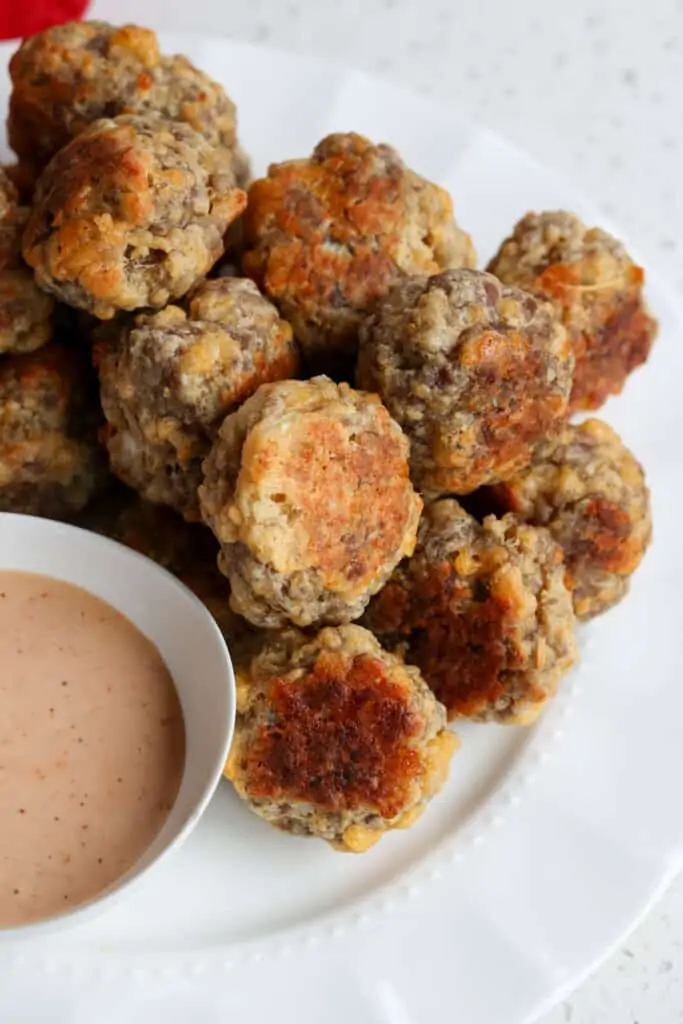 Indulge in the irresistible charm of our Savory Sausage Delights, a delectable twist on the classic Sausage Balls. Bursting with flavors of minced onion, garlic, and sharp cheddar, these delightful appetizers are not only quick to prepare but also steal the spotlight at any gathering. Whether it's game day festivities or a cozy movie night, these moist and flavorful bites are bound to be a crowd-pleaser.
Ingredients:
1 lb. ground pork sausage or turkey sausage
2 cups savory Bisquick mix
4 cups finely shredded sharp cheddar cheese
¼ to 1/3 cup milk (adjust as needed, see notes)
2 teaspoons Worcestershire sauce
¼ cup finely minced onion
2 cloves garlic, minced
½ teaspoon freshly ground black pepper
Instructions:
Preheat your oven to 350 degrees and line a spacious baking sheet with parchment paper.
In a large bowl, combine ground sausage, savory Bisquick mix, shredded cheddar, milk, Worcestershire sauce, minced onion, minced garlic, and fresh ground black pepper. Use your hands to meld the ingredients into a cohesive mixture.
Form the mixture into golf ball-sized savory bites, ensuring about 1-inch spacing on the prepared baking sheet.
Bake for 20-25 minutes until the balls achieve a golden brown perfection, ensuring they are cooked through. Serve promptly for optimal enjoyment.
Notes:
Adjust milk incrementally (1-2 tablespoons at a time) until the mixture reaches the desired consistency.
Finely mince onion and garlic for seamless rolling of the sausage balls.
Experiment with different sausage variations such as ground pork or Italian sausage, balancing flavor without excessive fat.
Elevate the taste with optional variations like Italian seasoning, Cajun seasoning, or crushed red pepper.
Conclusion:
In conclusion, our Savory Sausage Delights not only redefine the classic Sausage Balls recipe but also promise a quick and savory treat for any occasion. Whether preparing in advance or serving hot from the oven, these flavorful bites are sure to become a cherished favorite among family and friends. Enjoy the ease of preparation and the burst of flavors in every delightful bite!
Source of the picture : small town woman