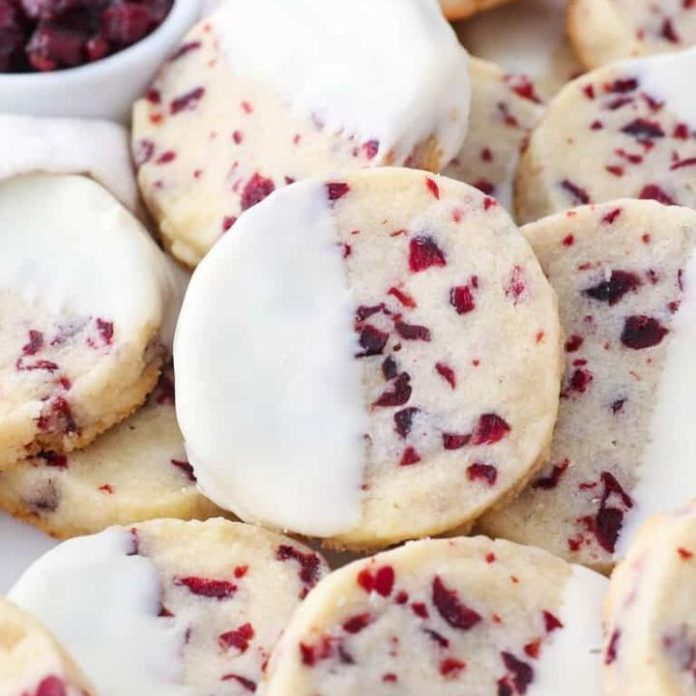 These Cranberry Almond Shortbread Cookies are soft, buttery almond shortbread loaded with sweet cranberries and dipped in white chocolate.
Ingredients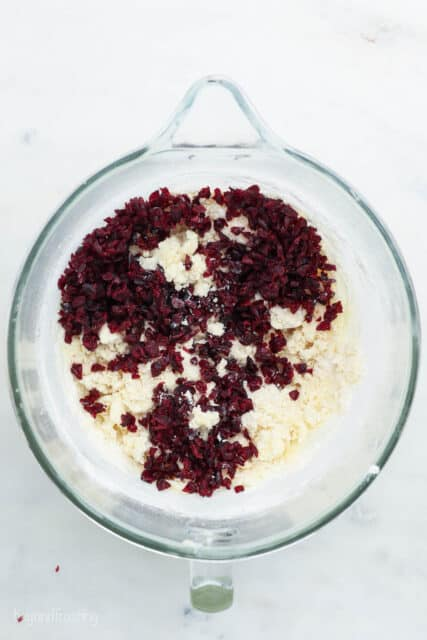 1 cup (226g) unsalted butter, at room temperature
¾ cup (143g) granulated sugar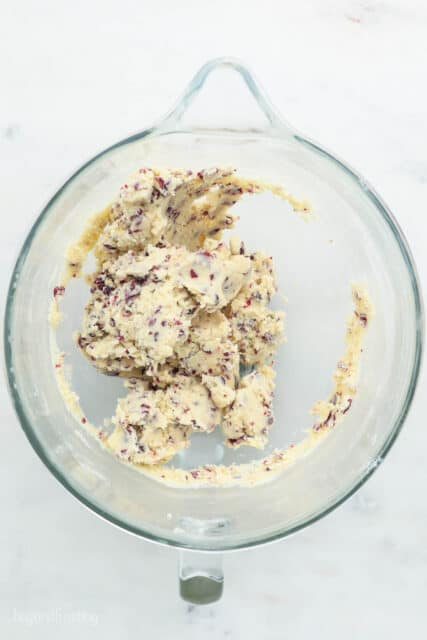 1 teaspoon (5ml) almond extract (or vanilla)
¼ teaspoon salt
2 cups (280g) all-purpose flour
1 cup (120g) sweetened dried cranberries, very finely chopped
6 ounces Ghirardelli white chocolate melting wafers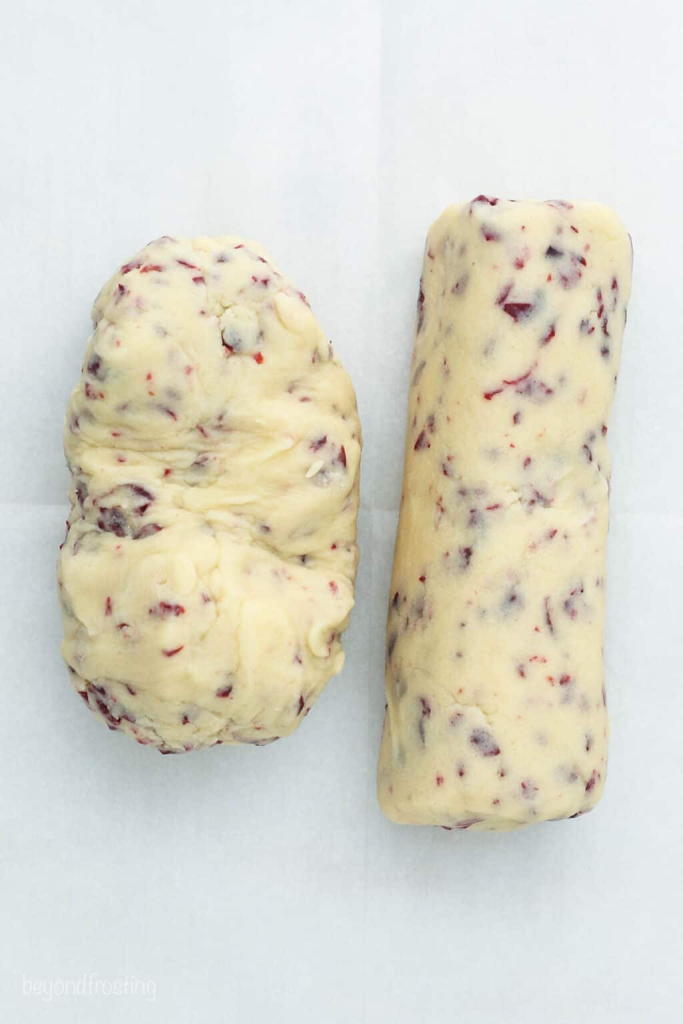 Instructions
In a stand mixer, combine the butter, sugar, almond extract and salt. Beat until light and fluffy and well combined, scraping down the bowl as needed.
Next, slowly add the flour ½ cup at a time until all the flour has been added. Mix at a low speed until the dough is crumbly, add the cranberries then increase the speed to medium-high and beat only until the dough starts to come off the sides of the bowl and stick together in a ball.
Turn the dough out onto a piece pf parchment paper. Divide the dough into two equal halves, press and shape into a log about 1 ½ inches thick and about 6-7 inches long. Tightly wrap the dough in plastic wrap and chill for at least 2 hours.
Preheat the oven to 375°F. Line a large cookie sheet with a silicone baking mat or parchment paper. Unwrap the dough and slice the cookies at least ¼" -3/8″ thick. Place on the prepared baking sheet approximately 1-inch apart. Bake for 9-11 minutes or just until the edges start to brown. Cool on the baking sheet for about 5 minutes then transfer to a wire rack to cool completely.
To dip in chocolate, wait until the cookies have cooled completely. In a microwave-safe bowl, melt half the chocolate wafers at 50% power in 30 second intervals; stir after each interval and continue until chocolate is melted. Reduce microwave time as needed so the chocolate does not burn.
Dip the cookies in the chocolate, tap off excess chocolate on the sides of the bowl and then place on a baking sheet lined with parchment paper or a silicone baking mat and allow the chocolate to set completely.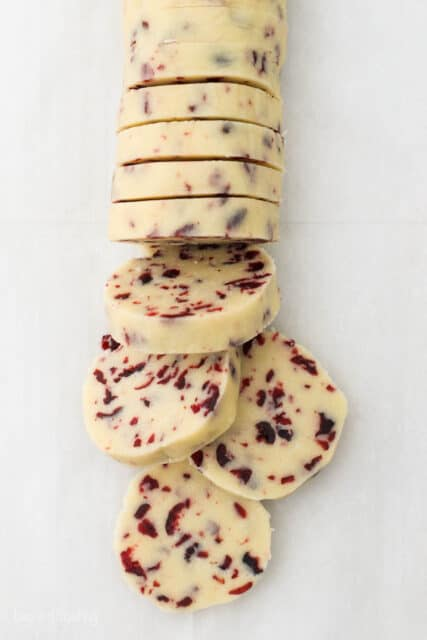 Notes
Be sure to bake the dough cold. 
The thicker these are cut, the less they spread. Using a silicone baking mat helps prevent the bottoms from cooking too quickly and results if a softer cookie. 
If you do find these spread after baking, you can fix it. Right, when they come out of the oven use 2 spoons, knives or spatulas to press the edges of the cookie back towards the center. You can also use a round cookie cutter to trim off some of the crispier edges You have to do this right away. 
Dough can be prepared in advance and stored up to 3 days in the refrigerator. Otherwise, I recommend freezing. Double wrap in plastic wrap. 
Nutrition Information:
Serving Size:
 1 CookieCalories:
 266Sugar:
 23.7 gSodium:
 45 mgFat:
 14.7 gCarbohydrates:
 32.3 gFiber:
 0.7 gProtein:
 2.4 gCholesterol:
 24.8 mg