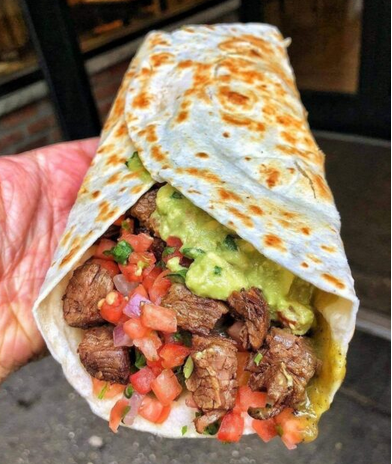 Introduction:
Looking to spice up your dinner routine? Try our delicious Loaded Steak Quesadillas recipe! With thinly sliced beef sirloin, a medley of colorful bell peppers and onions, and a blend of savory seasonings, these quesadillas are a symphony of flavors that will leave your taste buds dancing. Plus, they're incredibly easy to make. Let's dive into this mouthwatering culinary adventure.
Ingredients:
1 lb (453 g) beef sirloin, thinly sliced
1 bell pepper, diced
1 finely chopped onion
2 tsp seasoned salt (divided)
1 tsp Montreal steak spice
1 tsp cayenne pepper
16 slices of provolone cheese
4 tortillas
Vegetable oil
Instructions:
Season the Beef: Begin by enhancing the flavor of your beef sirloin. Sprinkle it with 1 teaspoon of seasoned salt, Montreal steak spice, and half of the cayenne pepper. This will infuse the meat with a delightful combination of spices that will set the stage for a flavorful quesadilla.
Sear the Steak: In a saucepan, heat a small amount of vegetable oil over medium-high heat. Sear the seasoned beef slices until they achieve a rich, golden-brown exterior. Once done, remove the beef from the heat and set it aside.
Saute the Veggies: In the same saucepan, add a little more oil if needed, then toss in the finely chopped onions and diced bell peppers. Sprinkle them with the remaining seasoned salt and cayenne pepper. Saute the vegetables until they become tender and fragrant, stirring frequently. This step adds a delightful crunch and a burst of colors to your quesadillas.
Assemble the Quesadillas: Now, let's put it all together! Spray another pan with oil and heat it over medium heat. Place a tortilla in the pan and arrange four slices of provolone cheese evenly on it. On one side of the tortilla, layer the seared beef, and on the other side, spread the sauteed vegetables. Allow the cheese to melt and bind everything together.
Fold and Cut: Once the cheese has melted to perfection, carefully fold the tortilla in half, creating a half-moon shape. The heat from the pan will help seal the quesadilla shut. Using a sharp knife, cut the folded quesadilla into four delicious wedges.
Repeat and Serve: Repeat the process for the remaining tortillas and ingredients until you have a platter full of loaded steak quesadillas, ready to be enjoyed by family and friends.
Conclusion:
These Loaded Steak Quesadillas are not only bursting with flavor but also incredibly satisfying. The combination of tender, seasoned beef, sauteed vegetables, and gooey provolone cheese will make this dish a favorite in your household. Whether it's a weeknight dinner or a weekend gathering, these quesadillas are sure to impress. So, why wait? Get cooking and savor the irresistible taste of these homemade quesadillas today!
image source : recipesneed