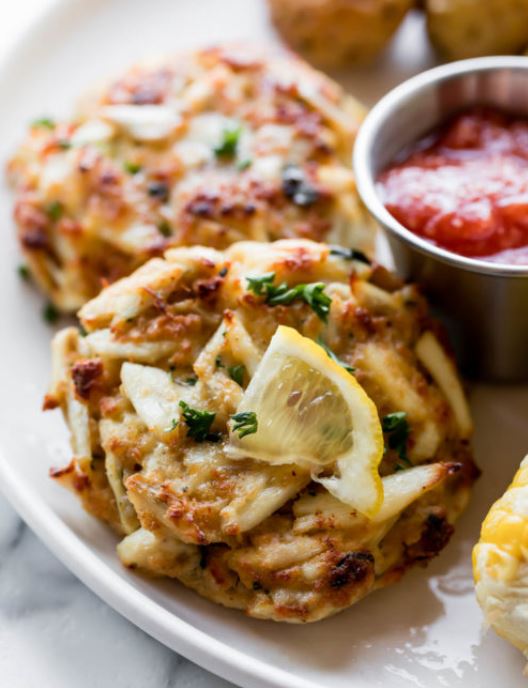 Prep Time: 40 minutes
 Cook Time: 15 minutes 
Total Time: 55 minutes 
Yield: 6 large crab cakes
Description
For the best texture, use lump crab meat, little filler, and bake the cakes in a very hot oven. Serve with lemon wedges, a garnish of chopped parsley, and/or cocktail sauce or tartar sauce. For more success tips and to learn which crab meat to use, see blog post above.
---
Ingredients
1 large egg
1/4 cup (60g) mayonnaise
1 Tablespoon chopped fresh parsley (or 2 teaspoons dried)
2 teaspoons dijon mustard
2 teaspoons worcestershire sauce
1 teaspoon Old Bay seasoning (up to 1 and 1/2 teaspoons for a spicier kick)
1 teaspoon fresh lemon juice, plus more for serving
1/8 teaspoon salt
1 pound fresh lump crab meat*
2/3 cup Saltine cracker crumbs (about 14 crackers)
optional: 2 Tablespoons (30g) melted salted or unsalted butter
---
Instructions
Whisk the egg, mayonnaise, parsley, dijon mustard, worcestershire sauce, Old Bay, lemon juice, and salt together in a large bowl. Place the crab meat on top, followed by the cracker crumbs. With a rubber spatula or large spoon, very gently and carefully fold together. You don't want to break up that crab meat!
CLICK NEXT PAGE BELOW TO CONTINUE READING …