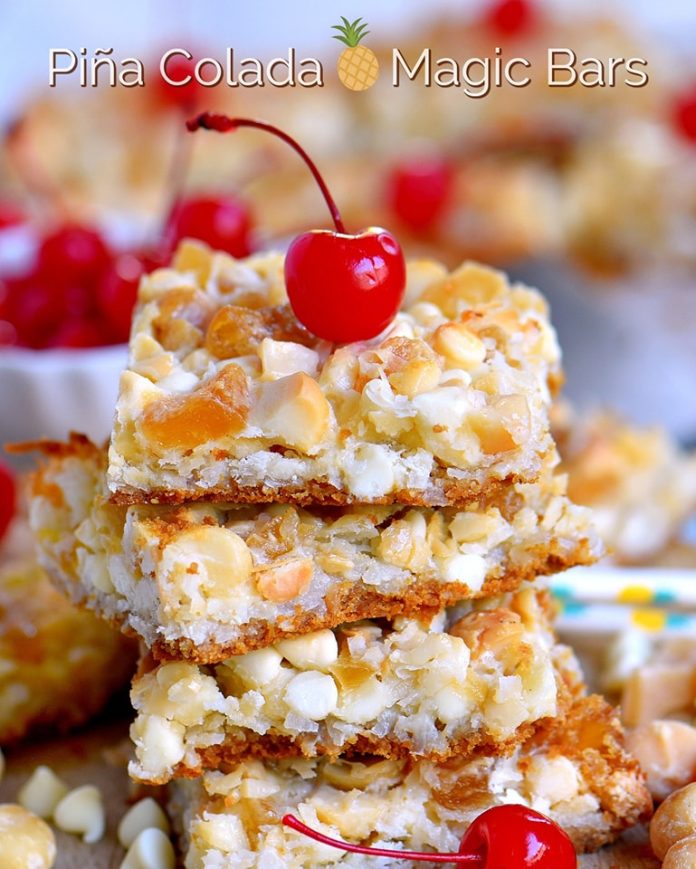 Piña Colada Magic Bar is a simple bar that combines the flavors of Piña Colada with your favorite 7-layer bar. Soft, chewy and tropical, they're sure to please everyone.
Piña Colada Magic Bar
Nothing says summer like a Piña Colada. The tropical combination of pineapple and coconut will have you dreaming of an island paradise even faster. Finish with a bright red cherry and you won't want to leave.
If you've been following me for a while, you'll be well aware of my obsession with piña coladas. I've transformed this wonderful flavor combination into fluff, banana bread, pie, and fudge.
Today, I made everyone's favorite dessert bar called "Magic Bars" or "7 Layer Bars" and turned it into a tropical treat.
These bars are so easy to make and have a real island feel to them. Simply mix graham crackers with melted butter and layer over macadamia nuts, dried pineapple, white chocolate chips and coconut.
For this super easy graham cracker crust, I used my favorite Challenge butter. I use Challenge butter because it's made the old-fashioned way, from fresh milk and cream from a family-run dairy farm. << I love it!
It goes from farm to fridge in two days and is free of hormones, artificial flavors and fillers. The delicious, natural flavors are perfect for this Pina Colada Magic Bar.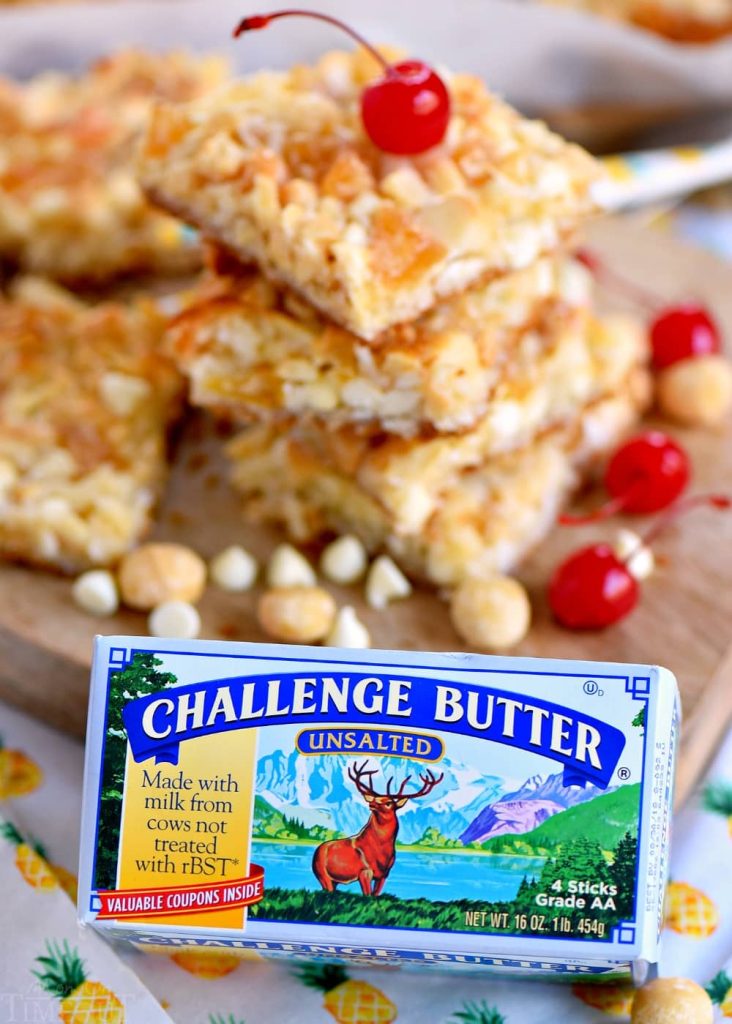 Simply pour the sweetened condensed milk mixed with rum over the top and bake in the oven – less than 10 minutes.
23 minutes in the oven.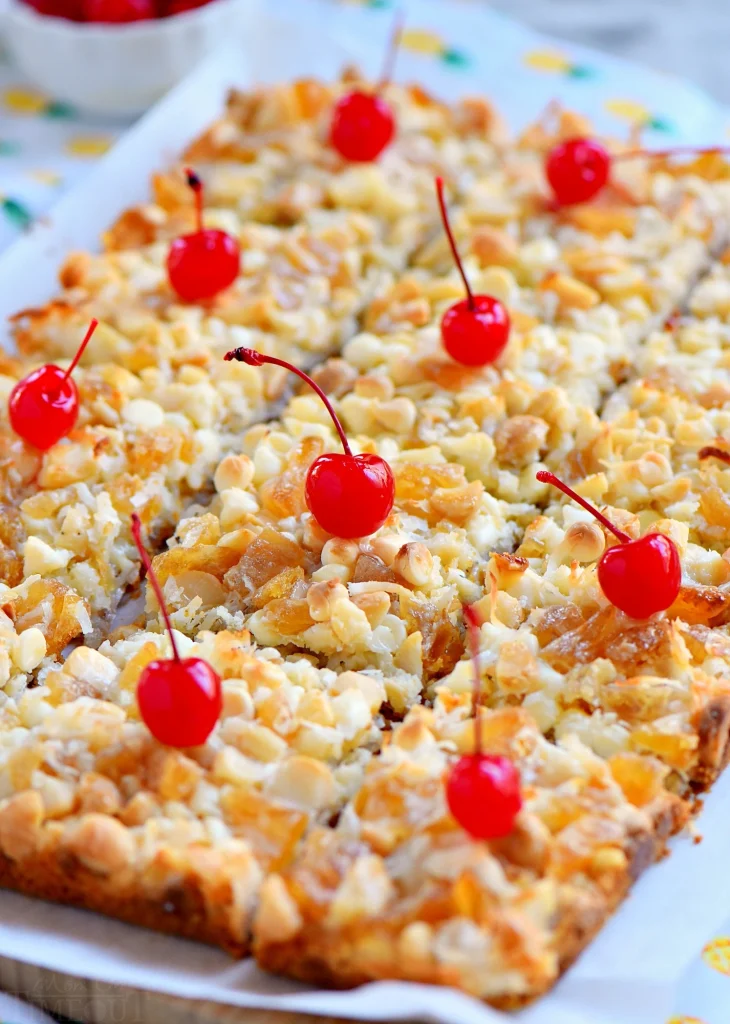 I used real rum in this recipe, but if you want to remove the alcohol, you can use rum extract instead. I used it in my piña colada fluff and it was delicious. I used dark rum, but any rum will do. Next time I will try coconut rum.
I topped each bar with a maraschino cherry because I love the fun and sweetness of cocktails and desserts.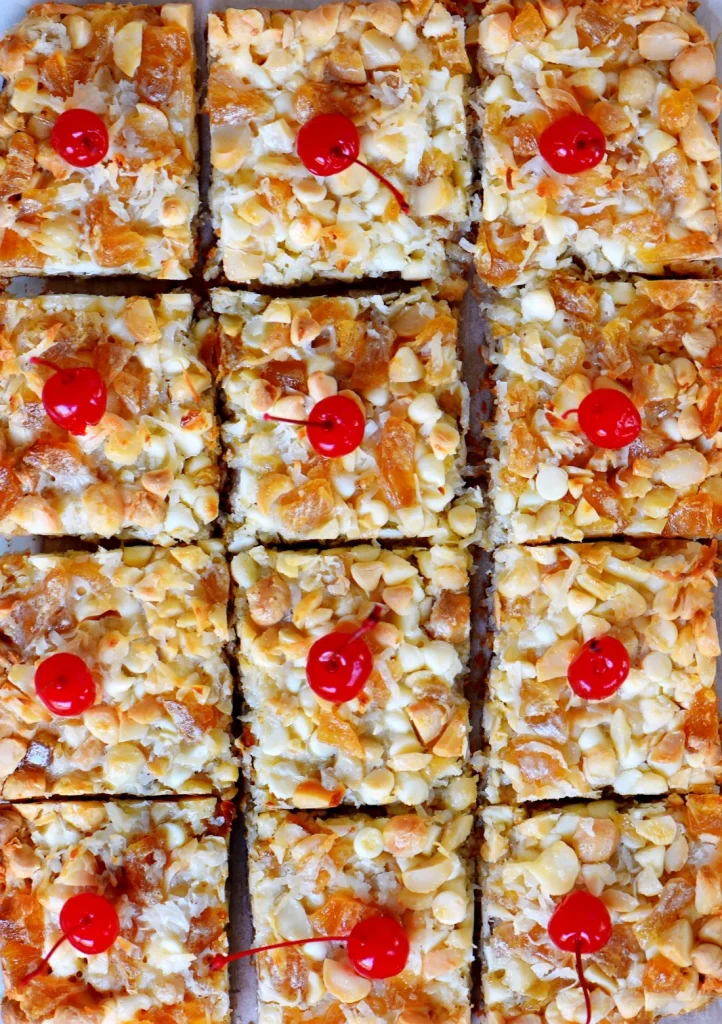 Everyone will love this gorgeous bar. They're soft, chewy, and very sweet. Best of all, you don't even have to leave the house. Please enjoy.
CLICK NEXT PAGE BELOW TO CONTINUE READING …