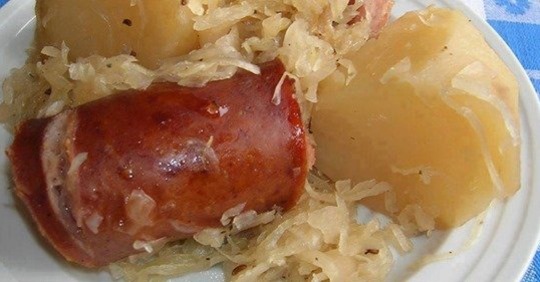 Crock pot sausage sauerkraut and potatoes is an easy dish to make for your family and friends.  This makes a lot so serve it at any gathering.
We love this easy crock pot recipe!  Sauerkraut and potatoes just seem to go together.  Add some Polish sausage and you have a meal in a pot!  This is real comfort food and my family is all about comfort food. We love easy crock pot recipes and this one is definitely a keeper.  You can cut this recipe in half or double it for a group of people. This dish is even better the next day after it has been refrigerated overnight.
CROCK POT SAUSAGE SAUERKRAUT AND POTATOES MAKES A GREAT WEEKNIGHT MEAL FOR YOUR FAMILY.
Ingredients
2 (14 ounce) cans sauerkraut, undrained (or 1 (2 pound) bag)
5 or 6 potatoes, peeled and cut into large chunks
1 cup water
1 pound Polish sausage, cut into chunks (could use smoked sausage)
1 teaspoon caraway seeds
1 bay leaf
1/4 teaspoon pepper
Directions:
Click Next Button Bellow for Full Recipe…