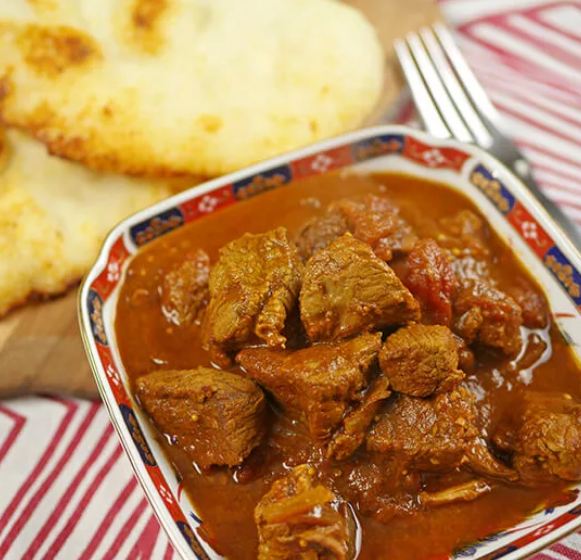 Prep time : 30 Minutes
 Cook time : 8 Hours & 15 Minutes
 Total time : 8 Hours & 45 Minutes
 Serves : 6
If you're looking for a slow-cooked beef madras curry that's full of flavor and provides heat, look no further.
Homemade curry paste helps give a lot of color and flavor to this dish. After a few hours of slow cooking, the meat will be very tender and brimming with all the delicious flavors of curry sauce. It's a curry you won't regret making.
Ingredients : 
Curry Paste
3 tsp garlic, crushed
2 tsp ginger, minced
2 tsp black pepper, ground
½ tsp cinnamon, ground
2 tsp garam masala
2 tsp turmeric, ground
¼ cup coriander, ground
2 tsp mustard seeds
¼ cup cumin, ground
¼ cup malt vinegar
1 Tbsp oil
Everything Else
1kg (2.2 lb) beef, cubed
1 onion, sliced
2 Tbsp tomato paste
2 tsp chili powder
400g (14 oz) crushed tomatoes
1 cup beef stock
If you need this recipe to be gluten-free, then make sure you use some apple cider vinegar instead of malt vinegar.
HOW TO MAKE IT :  
CLICK NEXT PAGE BELOW TO CONTINUE READING …