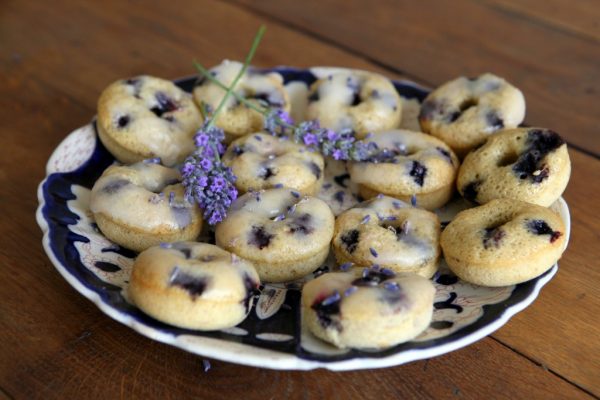 I never tried to make my own doughnuts because I thought it required a deep fryer or one of those metal baskets to put in a pot of boiling oil. It always seemed complicated to me and likely to make a huge mess. However, this recipe for mini blueberry donuts is the complete opposite of those things!
The best part about this recipe is that it only takes 10 minutes to prepare and another 10 minutes to cook. You will only need a small number of ingredients, and none of them are oil! There's also a simple lemon glaze to go with them, because as everyone knows, blueberries and lemon are a winning combination.
If you don't have a donut pan, they're relatively inexpensive and will make the process go a lot more smoothly. However, you can also use tinfoil as a DIY alternative to a donut pan. If you're the ultimate donut lover, I would recommend buying the pan – I'm willing to bet you'll get a ton of use out of it.
Click here for the full list of ingredients and step-by-step instructions from the awesome food and cooking blog, An Italian in my Kitchen. This recipe just goes to show that making donuts doesn't have to be a complicated, messy, or greasy experience. And because these ones are baked and not fried, you won't feel guilty about sneaking a few extras!
COURSE Breakfast, Dessert,Snack
CUISINEAmerican
SERVINGS 6  donuts
CALORIES273 kcal
INGREDIENTS  
BLUEBERRY BAKED DONUT
1 cup flour (125 grams)
3/4 teaspoon baking powder
1/4 teaspoon baking soda
pinch salt
1/3 cup sugar (75 grams)
3 tablespoons butter – melted (cooled) (43.125 grams)
1 egg
1/2 teaspoon vanilla
3 tablespoons plain greek yogurt (45.93 grams)
1/4 cup + 1 tablespoon milk (71.875 grams)
1/4 cup fresh blueberries (or add up to 1/3 cup) (25-35 grams)
Lemon Glaze
1 cup powdered/icing sugar (125 grams)
2-3 tablespoons lemon juice (30-45 grams)
INSTRUCTIONS
BLUEBERRY BAKED DONUT
Preheat oven to 350°F (180°C), grease and flour a 6 donut pan.
In a medium bowl whisk together flour, baking powder, baking soda, salt and sugar.
In a medium bowl whisk together egg, milk, yogurt, vanilla and melted butter until smooth.
Mix wet ingredients into dry ingredients, just until smooth, gently fold in blueberries. Fill donut pan and bake 10 minutes. Remove from pan, let cool completely then drizzle with lemon glaze if desired. Enjoy!
LEMON GLAZE
In a small bowl mix together until smooth powder sugar and lemon juice (add a tablespoon at a time to reach desired constituency).
NOTES
Be sure to watch the Video at the top of the post!
NUTRITION
Calories: 273kcalCarbohydrates: 49gProtein: 4gFat: 6gSaturated Fat: 4gCholesterol: 43mgSodium: 114mgPotassium: 106mgSugar: 32gVitamin A: 230IUVitamin C: 2.6mgCalcium: 50mgIron: 1.1mg