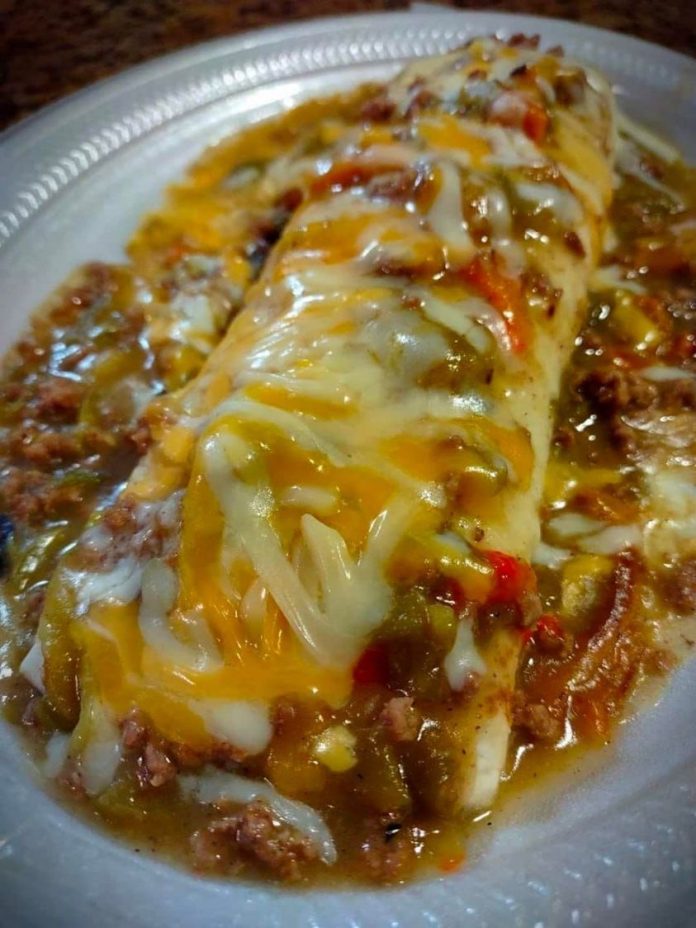 This wet burrito recipe consists of a succulent combination of ground beef and refried beans enveloped within a generously sized tortilla. It's smothered in red sauce and covered with melted cheese, and you can customize it with your preferred toppings like guacamole, sour cream, lettuce, onions, and tomatoes.
Ingredients:
1 pound of ground beef
1/2 cup of diced onions
2 teaspoons of minced garlic
1 teaspoon of cumin
1/2 teaspoon of salt
1/2 teaspoon of pepper
4.5 ounces of diced green chili peppers
16 ounces of refried beans
8 ounces of tomato sauce
10 ounces of enchilada sauce
15 ounces of chili without beans (Hormel)
6 large flour burrito tortillas (approximately 12 inches)
2 cups of shredded lettuce
3 cups of shredded Mexican blend cheese
Chopped green onions (for garnish)
Any other desired toppings
How to Prepare Moist Burritos:
Preheat your oven to 400 degrees Fahrenheit.
In a skillet over medium-high heat, brown the ground beef and diced onions. Cook until the beef is evenly browned and the onions start to soften. Drain excess grease, and season the mixture with minced garlic, cumin, salt, and pepper. Stir in the diced green chilies and refried beans until well combined. Turn off the heat, but keep the mixture warm.
In a separate saucepan, combine the tomato sauce, no-bean chili, and enchilada sauce. Whisk them together until thoroughly blended, and heat over medium heat until warmed through. Turn off the heat and keep the sauce warm.
Divide the beef and bean mixture into six portions.
Place a large tortilla on a plate and spoon 1/6 of the ground beef mixture onto the center. Top it with some cheese and lettuce. If you prefer, you can omit the lettuce or add other vegetables of your choice.
Fold the left and right sides of the tortilla over the filling, securing them with your fingers. Then fold the top and bottom sides of the tortilla over the filling, resembling an envelope, ensuring a good overlap to prevent any filling from escaping. Repeat this process with the remaining five tortillas.
Place the folded burritos seam side down in two greased 9 x 13 oven-safe dishes.
Pour the entire saucepan of sauce over the top of the burritos.
Sprinkle the remaining cheese evenly over all the burritos.
Bake in the preheated oven for 15-20 minutes until the burritos are heated through and the cheese is melted.
Top the burritos with more lettuce, tomatoes, sour cream, dried chives, or your preferred toppings.
Notes:
If you are cooking for two, you can freeze the leftovers.
To reheat frozen leftovers, thaw them completely first, then preheat your oven to 400 degrees Fahrenheit and bake for 15-20 minutes until heated through.
SOURCE : allwecook.com